At Acadian Log Homes, we have been designing and building custom log homes for 30 years.
Get a Quote Today!
At Acadian Log Homes we have been designing and building custom log homes for 30 years.
The time has finally come, you have decided to start building your perfect home! You have looked at a thousand plans, magazines, pictures. You have been to home shows, drawn sketches, maybe even purchase drafting software. You have tossed around a lot of good ideas, perhaps some not so good. We understand that this is a major undertaking for you and will give it our all to help you make it happen. Something my wife said to me years ago has stuck with me. After the clients left Louise gave me a reprimand. "You have been building all your life and just because you know what you are talking about does not mean they were getting it all. Listen a little more and make sure they understand." That was good advice. We realize this is your dream and it should be treated that way. It is not just another job.
Here are some of the things we can do to help you make it come together the way you dreamed.
Plans, We can customize a stock plan to suit your needs, work with your sketches or modify a plan you have found some where else.
Financing, We have helped many clients with the paper work for the mortgage.
Sound advice, how much do you want to do yourselves , what are your resources, experience, available time?
Knowledge, We can will explain the construction process in as much detail as you need to help you decide how much hands on is practical for you.
Experience, We can take your home from the dream stage to completion or any other stage. We do: ICF (insulated concrete foundations) Half log or timber exteriors. As much log accents, interior and exterior as you want. Log stairs and railings. Real rock exteriors.
Natural, Hand peeled full length douglas fir, western red cedar or pine logs, Scribed to fit with lateral grooves and saddle notches at the corners.
The character and warmth of natural warm interiors incuding log archways
Log beams and tongue & groove decking for the second floor system
Roof framing, include dormers, covered decks and vaulted ceilings
Handcrafted Log Staircases, straight or spiral and log railings
Custom designing and engineering
Commercial buildings built to meet all applicable codes, Acadian Log Works successfully designed and built the 12,700 square foot Horselake Recreation Center on budget and schedule for the Horselake Indian Band
We can give you competitive quote on your design or one of ours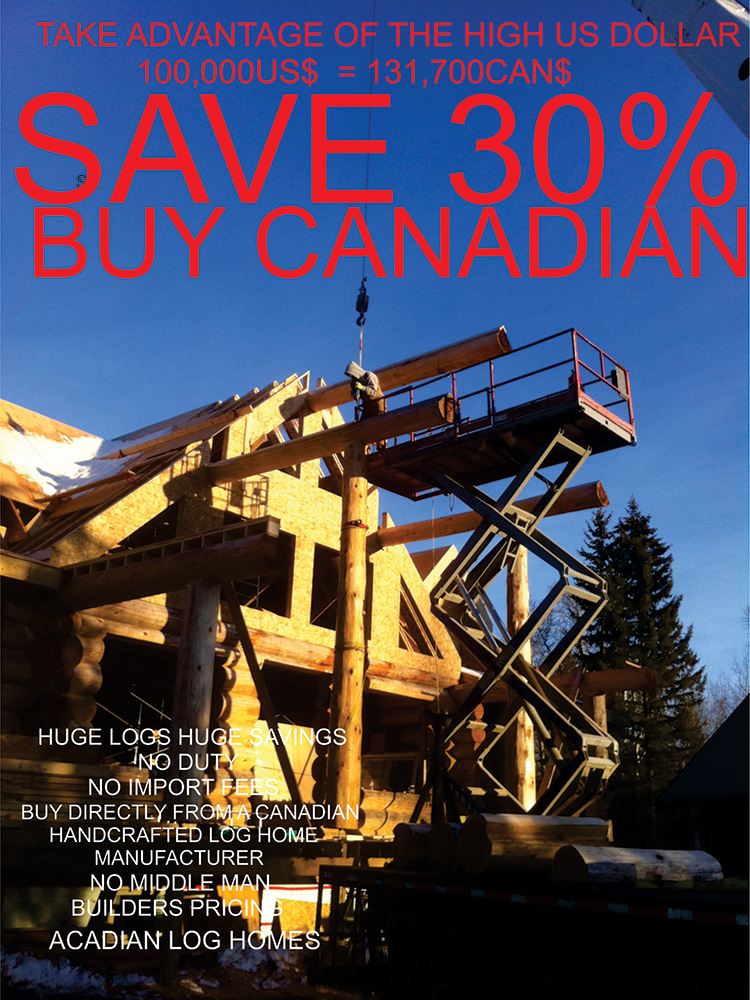 We can ship anywhere in the USA
A word from the president of Acadian Log Homes:
"As a Journeyman Carpenter with more than thirty years experience building log homes and the president of Acadian Log Homes, I am dedicated to building a structurally sound, aesthetically pleasing log or hybrid home. Whether your log building is a 400 sq ft guest home or a 5000 sq ft dream home, you are our number one customer. Thank you for considering Acadian Log Homes." – Cal Gauthier